Apprenticeship Application Information
Are you ready to take your career to the next level?
The position of a Heat and Frost Insulator includes the preparation, fabrication, installation, removal, and maintenance thermal insulation materials as well as any coating or weatherproofing on the materials. Thermal insulation materials are often applied to piping, boilers, ducts, tanks, equipment, or any hot or cold surfaces for the purpose of thermal control and personnel protection.
Must be 18 or older before June 1st of 2023. High School diploma or GED. If you are on schedule to graduate in the Spring of 2023, proof of graduation is waived until you receive it.
Valid driver's license required. Reliable transportation required. Must pass a pre-hire drug screen.
Physical Characteristics Required
Must possess the ability to: read, write, and comprehend basic instructions and mathematics. Communicate with others. Move equipment and supplies in excess of 100 pounds. Climb ladders and/or stairs, while carrying a load. Work with your hands doing repetitive motions throughout the day.
Environmental and Working Conditions
Exposure to weather, including outdoor conditions that may vary from hot summers to sub-freezing cold in winter. Our work can be in tight, confined spaces, sometimes even underground. We work at heights. While most of the work is done at 6-10 feet off floor level, there are times we work at extreme heights in areal lifts, on a scaffold, or on suspended platforms. We are a Construction Trade Union. Our work is dirty and strenuous on the body.
Frequently Asked Questions
Veterans can also utilize their GI Bill benefits while they are training in our Apprenticeship program. Learn more here.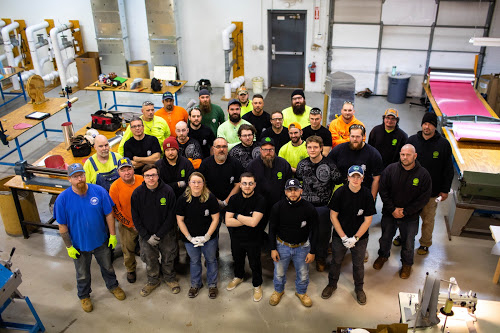 Applications will be available to all who are interested without discrimination because of race, color, religion, sex, or national origin. Applicants must be at least 18 years of age by June 1, 2023 and each applicant will be required to have a high school diploma or G.E.D. by December 1, 2023 and a driver's license. The applicant must reside in the geographic territory of the Union: the counties of Wayne, Macomb, Oakland, St. Clair and the Townships of Ann Arbor, Augusta, Lodi, Northfield, Pittsfield, Salem, Saline, Scio, Superior, Webster, Ypsilanti and York in Washtenaw County.